SMSC
SMSC and British Values
Our Vision
Our school vision to ensure all of our students are positive future citizens, equipped for the modern world in skills, knowledge, experiences and qualifications, exemplifies our holistic approach to education and reflects the importance we place on the development of SMSC at the school, including the promotion of British Values.
We recognise that the development of SMSC and British Values not only plays a crucial role in our student's capacity to learn and achieve, but also in their ability to understand and appreciate the world we live in. As such we ensure that our curriculum extends beyond the academic to support the student's personal development and to prepare the students effectively for life beyond school.
The National SMSC Quality Mark – Gold Award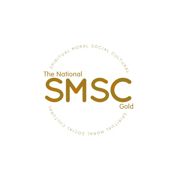 The schools SMSC provision has been recognised with the school being awarded the Gold level National SMSC Quality Mark by the Citizenship Foundation. During the re-verification visit in November 2022, it was noted that the school provides so much high quality SMSC development that it significantly exceeds that which is provided by so many other schools.
National SMSC Quality Mark Report 2022
SMSC and British Values across the Academic Curriculum
We carefully map the delivery of SMSC and British Values across the full curriculum to ensure that all students have the opportunity to:
| | |
| --- | --- |
| Explore beliefs and experience; respect faiths, feelings and values; enjoy learning about oneself, others and the surrounding world; use imagination and creativity; reflect. | Spiritual |
| Recognise right and wrong; respect the law; understand consequences; investigate moral and ethical issues; offer reasoned views. | Moral |
| Use a range of social skills; participate in the local community; appreciate diverse viewpoints; participate, volunteer and cooperate; resolve conflict. | Social |
| Appreciate cultural influences; appreciate the role of Britain's parliamentary system; participate in culture opportunities; understand, accept, respect and celebrate diversity. | Cultural |
| Engage with the fundamental 'British values' of democracy, the rule of law, liberty, respect and tolerance. | British Values |
Please click the link below to view our curriculum plans, which detail the SMSC and British Values links for each year group:
Form Time at Goffs-Churchgate Academy
The purpose of form time at Goffs-Churchgate Academy is to give students the opportunity to explore key values that are part of their developing character and preparing them to be citizens of the worlds. The resources available will include literacy and numeracy challenges in order to allow students to use skills outside of curriculum time and include access to a range of SMSC, Citizenship and British Values. During this time, students will also be able to discuss different religious beliefs and practices of contemporary Great Britain as well as explore sex and relationships education. Our form time will also promote our community and provide students with the opportunity to get involved in House and charitable competitions.
Form time aims to:
Enable students to develop their self-esteem and confidence.
Enable students to distinguish right from wrong and to respect the civil and criminal law of England.
Encourage students to understand how they can contribute positively to the lives of those working in the locality of the school and to society more widely.
Enable students to acquire a broad general knowledge of and respect for public institutions and services in England.
Enable students to acquire an appreciation of and respect for their own and other cultures.
Encourage respect for other people.
Encourage respect for democracy and support for participation in the democratic processes, including respect for the basis on which the law is made and applied in England.
The Two week programme of form time activities includes:
Please click on the following link for further information regarding our House system:
Assembly: Each half term our assemblies are linked to a key theme: Community, Aspiration, Liberty, Identity, Decisions and consequences and Respect. All assembly themes are mapped against each of the SMSC and British Values strands, and take into consideration key events and religious festivals throughout the year.
SMSC: All students have a weekly SMSC Form time session. These sessions allow the students to explore topics in greater depth to deepen their understanding, debate their opinion and reflect upon their views.
Our Form time programme reflects our integrated approach to the development of key skills and knowledge to ensure that the students receive a broad and balanced education. Therefore, our Form time plans are carefully mapped alongside Citizenship, Religious studies, Relationship and Sex education, and Character development to ensure comprehensive coverage of each area.
SMSC and British Values in the Wider Curriculum
We value the contribution of extra-curricular activities in the student's personal development, and recognise the important role this plays in the students SMSC education. All students have the opportunity to extend their learning through a range of enrichment opportunities:
Student leadership: Our students are encouraged to take an active an active role in the life of the school. Our student leadership programme includes a range of leadership roles which allow the students the opportunity to contribute to the development of the school and links within our local community. Our student leaders create and implement their own Student School Development Plan (SSDP) detailing their priorities for the year, and regularly attend Senior Leadership meetings to discuss their plans and the reflect upon their progress.
Extra-curricular club programme: We have a comprehensive extra-curricular clubs programme to enable students to continue their learning outside of the classroom, and develop their interests and talents. Our programme includes activities that take place at lunch time and after school. The adjustments made in school for Covid-19 mean that all extra-curricular activities will now take place in Year group bubbles for the safety of our students.
LINK TO EXTRA-CURRICULAR CLUBS TIMETABLE
Trips: Our offsite trips and visits programme is planned for the year to provide a range of opportunities for our students to link their learning in the classroom to the real world. Each faculty area selects a range of trips to develop the student's subject specific knowledge and understanding. However, we also include trips which are not linked to a particular subject but are instead focused on developing the student's cultural capital and understanding of real life; this includes an annual trip to the Houses of Parliament, and residential trips to experience outdoor and adventurous activities.
Community links
We encourage our students to take an active role in their community. We have joined the Broxbourne council 'adopt a road' initiative to encourage students to take pride in their environment and contribute to the cleanliness of College Road. We regularly participate in local events such as local Armistice Day events and support local charities such as the Broxbourne food bank. Our students have visited a local specialist dementia care home and have the opportunity to work with a number of local businesses through our Careers programme. The whole school community has benefited with our local links to Herts Mind and in return has raised over £500 for the charity.
Charles Walker OBE MP
Member of Parliament for Broxbourne
Our students have regular access to our local MP, Charles Walker. He supports and attends our school's annual Health and Wellbeing Day; In 2019 he opened the day with a speech to the students about the importance of positive physical and mental health, and has since become one of our school's official Mental Health Champions.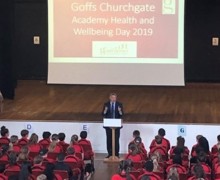 Our Commitment to SMSC Development
All staff have received SMSC training from The National Citizenship Foundation (13th March 2018), to further develop their understanding and expertise, and to allow opportunity to reflect upon current practice, and plan for the future development of SMSC.
One of the schools 5 commitments is 'To build on and develop an inclusive community for all students – Community/SMSC'. As such SMSC and British values are explicitly included into the School Development Plan with specific aims/targets for the year. The Assistant Principal is identified as the school's SMSC co-ordinator, and has specific responsibility for its development. Progress is regularly discussed at Senior Leadership meeting and reported to school's Trustees Pastoral Committee throughout the year.