Student Leadership
Student leadership is an integral part of our school community. The Student Executive, including the Head Boy and Head Girl, take an active role in school development using student voice, to help to make informed decisions. As a result, members of the Student Executive regularly attend SLT meetings to share their work on behalf of all students.
The Student Leaders are categorised as follows and are identifiable through a personalised burgundy pin badge:
Form Representatives
Year Representatives
Deputy Head Students
Head Students
Head of each student committee
Members of the different committees
Anti-Bullying Ambassadors
House Captains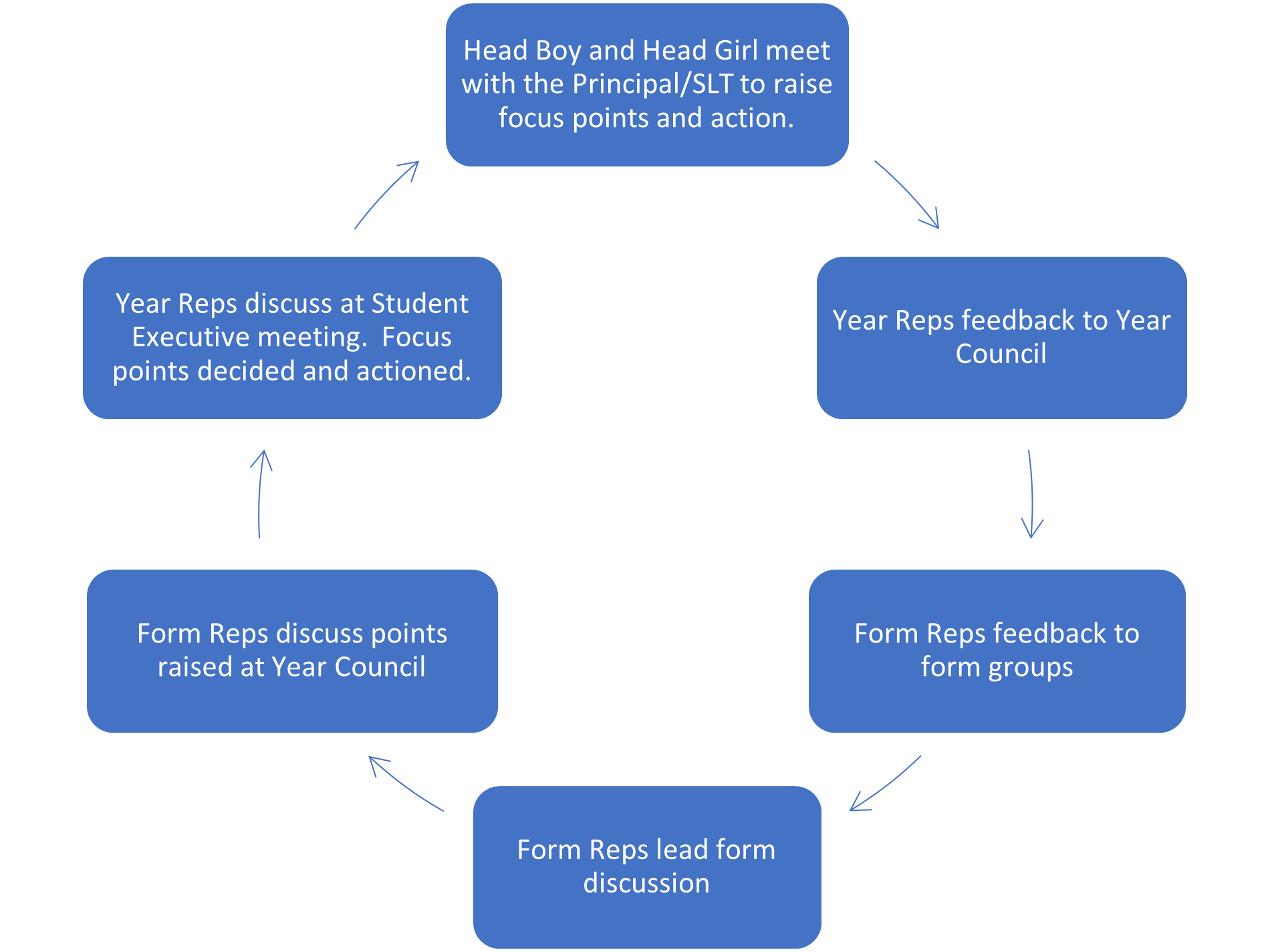 Fig. 1 – Student Leadership cycle
Year Councils and the Student Executive will meet at least once per half term, with Year Councils overseen by the associated Director of Learning and the Student Executive meetings overseen by the Assistant Principal for Personal Development.
Our Student Executive is made up of the Heads of each committee, the Deputy Head Students and the Head Students.
We have four student-led committees which meet regularly, each of which plays a unique role within the school:
The Community and Charities Committee
The Eco Committee
The Mental Health and Wellbeing Committee
The Sports Leaders Committee
Our Head Students and Deputy Head Students all ran a short campaign before they were voted in to their current position through a whole-school vote. They are a visible presence within the school and at school events, however Covid and various national lockdowns have reduced the work completed by the Student Executive over the last academic year.
All students are welcome to be part of one of the committees and to help play an integral role of the Student Leadership at Goffs-Churchgate, helping continue to improve the school. Recruitment into student leadership positions take place through an application form, which will be disseminated by Form Tutors. Currently, over 10% of the student population have been appointed to a role in Student Leadership.
The Student Executive are further developing their leadership skills and are currently undertaking a formal Student Leadership accreditation with the Schools, Students and Teachers Network (SSAT).