Anti-Bullying
In April 2020 Goffs Churchgate was awarded the All Together Silver School Status for its work on preventing bullying. The All Together Programme is a whole school anti bullying programme for schools in England. It is funded by the Department for Education and delivered by the Anti Bullying Alliance.
An "All Together school" is a school that has been recognised for its work to reduce bullying and improve the well being of it pupils over the course of the All Together programme.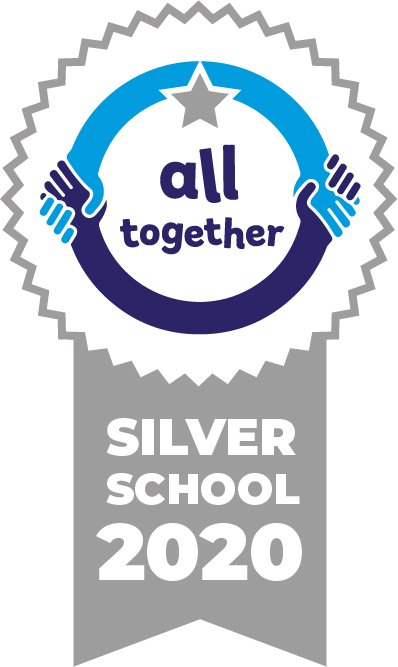 Anti-Bullying Ambassadors
The wellbeing of Goffs-Churchgate students is integral to the school, and this includes our understanding of each child's needs. Although there isn't a significant issue at our school, bullying can have a detrimental effect on a child's learning. At the end of last year, Goffs-Churchgate assembled a team of Anti-Bullying Ambassadors. We have a team of 13 Ambassadors, who range from Years 8 to 11, and they can be found all around the school. We all attended a training session lead by the Diana Award, teaching us how to act/respond in many difficult situations, involving bullying. As well as around the school, we can be found in 'Learning Plus' at break time, should any student want to discuss any concerns.
One of the Ambassadors describes her role:
"My role in the Anti-Bullying Ambassadors Team is to promote awareness of bullying and present assemblies about what my colleagues and I are doing. Since I joined the school in 2018, I have experienced a safe environment, one in which I can thrive in and I want that to be the case for all students at Goffs-Churchgate Academy. I am proud of my school and what they are doing to help tackle bullying and help those who have been affected by it. If you have any questions/problems, you can see one of us"
Goffs-Churchgate has committed to the Anti-Bullying Alliance's 10 Key Principles to reduce and respond to bullying. All staff and students have agreed to use this as a clear ethos about how we treat others as a community.
POLICIES/ADDITIONAL INFORMATION
Anti-bullying Alliance - the alliance brings together over 60 organisations into one network with the aim of reducing bullying. Their website has a parent section with links to recommended organisations who can help with bullying issues www.anti-bullyingalliance.org.uk
Developing effective Anti-bullying practice
Kidscape
www.kidscape.org.uk
02077303300
Childline – advice and stories from children who have survived bullying
08000 1111
Bullying on line
Parentline Plus – advice and links for parents www.parentlineplus.org.uk
08088002222
Parents against Bullying
01928 576152
Useful sources of information
Stonewall - the gay equality organisation founded in 1989. Founding members include Sir Ian McKellen. www.stonewall.org.uk.
Cyberbullying.org - one of the first websites set up in this area, for young people, providing advice around preventing and taking action against cyberbullying. A Canadian based site www.cyberbullying.org
Chatdanger - a website that informs about the potential dangers online (including bullying), and advice on how to stay safe while chatting www.chatdanger.com
Think U Know - the Child Exploitation and Online Protection Centre (CEOP), has produced a set of resources around internet safety for secondary schools www.thinkuknow.co.uk
Know IT All for Parents – a range of resources for primary and secondary schools by Childnet International. Has a sample family agreement www.childnet-int.org/kia/parents
Transgender - Information regarding transgender students www.transkids.synthasise.com
Mermaids - Family and individual support for teenagers and children with gender identity issues http://www.mermaidsuk.org.uk/