eSafety
E-safety is about protecting our school community whilst using the internet and related digital technologies. Here at Goffs-Churchgate we are committed to ensuring that our students are well educated to be able to embrace these new technologies, allowing them to engage creatively with learning, communication and interaction whilst understanding the associated risks and therefore staying safe.
This symbol demonstrates our commitment to safe remote education, whilst working towards the criteria for the National Online Safety's Safe Remote Education award.
The internet and other digital technology, such as mobile phones, apps, gaming media and tablets are powerful tools and have transformed the way in which we communicate with others. Young people often embrace the use of technology, however in order to use these technologies effectively and most importantly safely, it is important to highlight the potential associated risks as well as the benefits.
Throughout remote learning, the following slide has been regularly shared with students at the beginning of lessons, particularly around Safer Internet Day which we supported on 9th February, and will now be shown daily at the beginning of each form time session.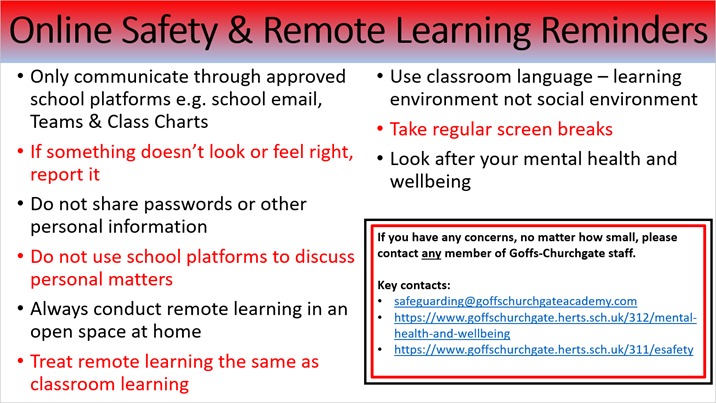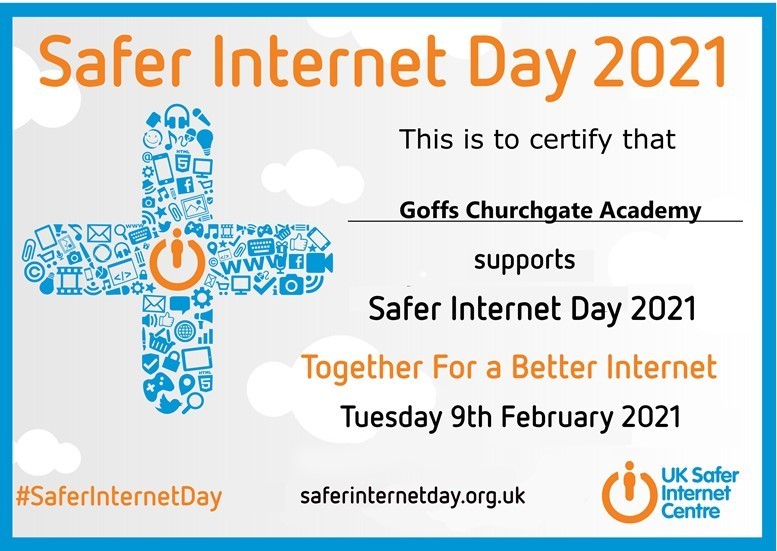 To support our students develop into positive digital citizens, we interweave e-safety, along with all other aspects of SMSC, RSE and Personal Development, into all aspects of school life including our lessons, assemblies and form time activities.
The responsibility of e-safety falls on each and every one of us. It has never been more important for parents and carers to understand how their children use the internet and associated digital technologies to help minimise the risks and to reinforce the online safety messages given in school. In order to help support parents and carers, we have arranged an online parent & carer evening on Tuesday 8th June, led by the external E-Safety Training organisation, also known as 'The 2 Johns'. This will be a hugely insightful evening and more details will come out closer to the time. There are a wide range of guides and other helpful website links below that all support e-safety and staying safe online.
If parents have concerns about the authenticity of who their child may be communicating with online, a referral can be made to CEOP (Child Exploitation and Online Protection), by clicking on the button below. This button can also be found at the top of each page on our website.

For more information around e-safety please contact the school or the Assistant Principal for e-safety, Lyndsay Johnson at l.johnson@goffshurchgate.herts.sch.uk.
Guides for Parents & Carers
Online Safety Guide for Parents
Remote Education – Top Tips for Parents & Carers
Online Safety Tips for Children with New Devices
Social Media
Consoles & Gaming
Other
Online Safety External Website Links
Here is a range of different websites where you can find out more about how children use social media, the apps they use, the risks they face, advice and tips about how to talk to your child about staying safe online, how to use privacy settings and much more. Please note that if you feel you require further guidance about keeping your child safe online please contact the school.
Ask About Games – Lots of useful information on gaming consoles including safe settings whilst setting up new devices https://www.askaboutgames.com/
Childline – Immediate help for children anytime https://www.childline.org.uk/
Childnet – Parents and carers toolkit to offer practical tips and advice on keeping your child safe online https://www.childnet.com/parents-and-carers/parent-and-carer-toolkit
E-Safety Training – Advice for parents and carers to understand the risks both online and through various apps https://esafetytraining.org/resources/parents-carers-area/
Internet Matters – Helping parents keep their children safe online https://www.internetmatters.org/
Let's Talk About It – Advice for parents and carers to keep children safe online from radicalisation https://www.ltai.info/staying-safe-online/
National Online Safety – Free access to many different guides and advice on a wide range of online aspects National Online Safety | Keeping Children Safe Online in Education
Net Aware – Your guide to apps, games and social media sites from the NSPCC https://www.net-aware.org.uk/
NSPCC – Covers all aspects of online safety from setting up parental controls to advice on sexting and video apps https://www.nspcc.org.uk/keeping-children-safe/online-safety/
Parent Info – Help and advice for families in a digital world https://parentinfo.org/
SWGfL Password management and security – A guide to creating and managing secure passwords https://swgfl.org.uk/resources/password-management-and-security-guide/
Think U Know – An education programme from the National Crime Agency's Child Exploitation and Online Protection (CEOP) Centre https://www.thinkuknow.co.uk/
UK Safer Internet Centre – Tips, advice, guides and resources to help keep your child safe online https://www.saferinternet.org.uk/advice-centre/parents-and-carers