Overview 2023-2024
The Goffs-Churchgate Academy Curriculum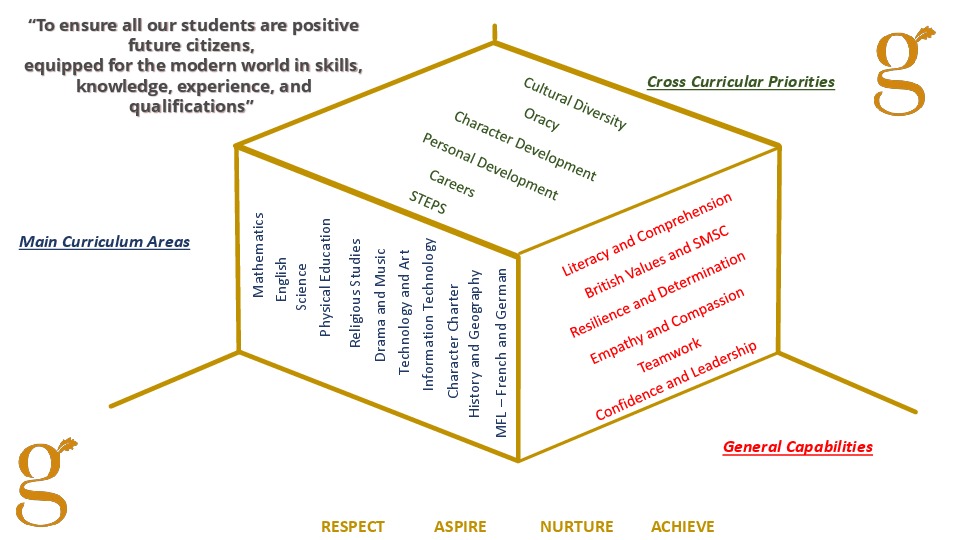 Below you will see the curriculum plan for each year group broken down by term. For each subjects you will see we are encouraging students to think about the big idea. Then there are the clear skills and knowledge that we will be teaching in every subject.
Alongside that, and woven into our curriculum, is our wider work on SMSC, British Values, Music, extra-curricular learning, an extensive careers programme, and the school's strong work on Mental Health and Wellbeing. Their curriculum maps can also be found below.
The school has looked carefully at the cohort of students and devised a curriculum that is both challenging but provides students additional opportunities to develop their Capital Culture.
The key features of our curriculum are:
A focus on skill development - each subject breaks every topic into the big idea and then teaches and develops the skills and knowledge to be able to access the big idea. This also allows students to see the sequence of lessons
A focus on literacy and oracy– especially at KS3. The school recognises that a proportion of our students do not have mastery of literacy skills once they leave primary school
Ensuring our curriculum represents our diverse community - a range of initiatives have been undertaken to ensure that our curriculum is diverse and represents all members of our community. Perhaps most notably, has been the significant changes to the Key Stage 3 English Curriculum, which has been completely overhauled to ensure that the authors and books we study, not only promote reading, but exposure students to a diverse range of authors and their stories
Courses that are engaging, relevant and achievable - We are delighted that our full year group of Year 11, have been able to select options from a broad range of subjects. At Key Stage 3, we have deliberately protected our broad curriculum, including Technology, Art, Drama, Music, Character Charter, PE, and ICT. In Year 8, students have timetabled lessons in Public Speaking. In Year 7 and 8, students have lessons on Respectful Relationships, learning about consent, positive choices, and keeping themselves and others safe. Goffs-Churchgate has made a deliberate strategy to target and promote students completing the full Ebacc. When we took over the predecessor school only 18% of students completed the full Ebacc. We are now in a position where at least 62% of students, will be studying the full Ebacc pathway, with over 75% of our new Year 10 cohort studying the full Ebacc. We have ensured that every student has the opportunity to study the full Ebacc should they wish
Ensuring that the curriculum is ambitious and challenging for all students including those with SEND- we carefully track to ensure that all students have a robust and challenging curriculum, relevant to their needs. All students have the opportunity to study a language and whilst some do not take it to further study at Key Stage 4, all have exposure to functional languages and the cultures behind them
A focus on character development- through for example, Character Charter, Technology lessons, PE, and Drama and Music lessons, we aim to build wider skills; such as resilience, organisation, and leadership; as well as life skills for post school including ironing a shirt and cooking. We hold a range of Curriculum Enrichment Days, including; PrisonMeNoWay; Mental Health and Wellbeing Day, Sports Day, a STEM day, and days focused on Healthy Relationships
Careers Development - the school has completed the Investors in Careers Quality Mark and has an integrated Careers plan for all students in the school. Alongside Work Experience, Careers Days, an onsite Careers Advisor, mock interviews, and much more, students are prepared to the work place after their school career. We have also developed a fantastic partnership with Hertford Regional College, for students at Key Stage 4 to experience day long taster sessions of the College courses. These visits started in the summer term of Year 10 and will continue throughout Year 11 to support students' transition. In addition, partnership work with Goffs Sixth Form, allows students a dedicated pathway to Sixth Form, should they wish.
Mental Health and Wellbeing Development - the school's curriculum is designed to ensure we support everyone's Mental Health. The school has developed a relationship with HertsMIND, who regularly deliver sessions in school to our students. The work on Mental Health culminates in the annual Mental Health and Wellbeing Day
Opportunities to develop student's Capital Culture - the school deliberately plans and delivers a range of extra-curricular activities/trips to promote this Capital Culture including: all students in Year 7 going to the Houses of Parliament; trips including Bank of England, Theatres, and Bletchy Park; Paul Hannaford talk on Drugs and Crime; and many more.
RS, RSE, SMSC and British Values - the school has deliberately taken time to ensure that this are explicitly taught through all years and a plan is carefully mapped out for all year groups (see SMSC section of website). The teaching of respect and tolerance ensure that all students feel it is ok to be different at the school
Supporting our student's pastoral needs - we are exceptionally proud of the support we provide every child, something our community recognises. This includes the use of our Learning + area, Mental Health support (including support from NHS Mental Health in School's Trust), our Learning Mentor, our School Counsellor, and a range of other staff members to support.
Relationships and Sex Education Curriculum Map
Religious Studies Curriculum Map
Character Charter Curriculum Map
Respect Curriculum taught in Year 7 and 8
Year 7 Curriculum hours and Learning Journey
Year 8 Curriculum hours and Learning Journey
Year 9 Curriculum hours and Learning Journey
Year 10 Curriculum hours and Learning Journey
Year 11 Curriculum hours and Learning Journey
In designing our curriculum, the school has paid great attention to the local employment needs in the area. The Hertfordshire Skills Framework, which surveyed 300 local employers about the skills and qualifications needed, is central to our curriculum. This information is central to our Careers provision (see link) and our wider curriculum. For example, the skills highlighted of confidence and teamwork are central to our Character Charter, Team Building activities and our wider curriculum.
Hertfordshire Skills Framework
Should you require any further information about the Curriculum at Goffs-Churchgate Academy please contact Tom Sparks (Principal) at the school