Governance and Scheme of Delegation
Welcome to the Generations Multi Academy Trust
The Generations Multi Academy Trust is a company limited by guarantee and a charitable trust. Responsibility for the academies that make up the trust and for the funds granted by Parliament for providing education in those academies is entrusted to the Board of Trustees.
These Trustees are also the Directors of the company. Much of the work of the Board is delegated to committees; in particular there is a separate committee for each of the academies which works as an Local Academy Board (LAB).
The other Board sub-committees are:
Resources and Workforce Development (R&WD)
Standards & Achievement
Local Academy Boards debate key matters at school level and pass their recommendations up to the Board, via each committee, for discussion and ratification. Read more about Goffs Local Academy Body here.
The Trust provides strategic oversight of financial control and strategy through the Chief Financial Officer, the Resources and Workforce Development and the main Trust Board. The Trust's finances are externally audited on an annual basis.
Trustees
The role of the Trustees is to provide a strategic view of all academies in the Trust, to ensure accountability and to be a critical friend. The Trustees are responsible for the overall direction of the School.
The Board of Trustees is not responsible for day to day matters within school which is the responsibility of the Principal. Trustees also set and monitor targets, the school budget and the effectiveness of policies to ensure all students have a broad and balanced curriculum.
The Chair of the Trustees is Mr Andrew Clarke and can be contacted via: Andrew.Clarke@generationsmat.herts.sch.uk
The structure and roles for 2019-20 was confirmed at the Board of Trustees meeting on Thursday 12th September 2019.
| Position | Name |
| --- | --- |
| Chair of Trustees/ Member/ Chair of Personnel | Mr Andrew Clarke |
| Vice Chair of Trustees / Member | Miss Vanessa Wright |
| Member | Vacancy |
| Member | Vacancy |
| Member | Mr Martin Jackson |
| Trustee / Chair of Standards & Achievements | Mrs Jean Holt |
| Trustee / Executive Principal | Ms Alison Garner |
| Trustee / Chair of Goffs - Churchgate LAB | Mrs Joanna Formoso |
| Trustee (Support Staff) / Vice Chair of Goffs LAB | Mrs Francoise Grote |
| Trustee (Teaching staff) | Mrs Toyin Oyelade |
| Trustee | Mr John O'Sullivan |
| Trustee | Mrs Kathy Dunnett |
| Trustee / Chair of Goffs LAB | Ms Donna Cooper |
| Trustee | Mr Ian Fish |
| Trustee / Vice Chair of Trustees / Chair of R&WD | Mr Patrick Philpott |
| Trustee (Support Staff) | Mrs Sandra Skinner |
| Trustee | Mr Kacey Brown |
Generations Multi Academy Trust 2019-20
Chair – Andrew Clarke
Vice Chair - Patrick Philpott and Vanessa Wright
Committee Membership 2019-20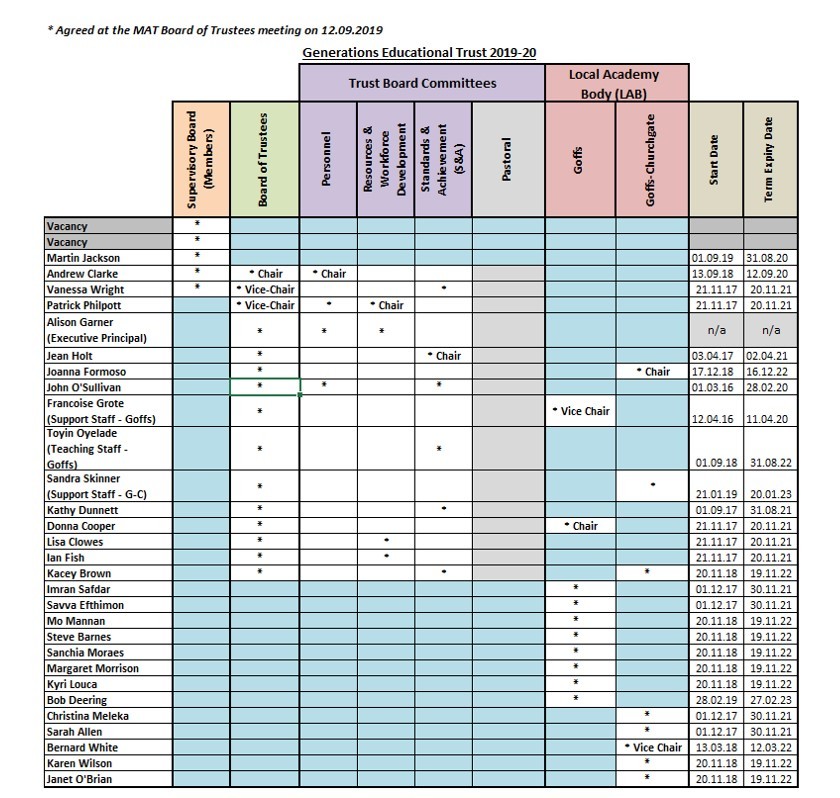 Business Interests
Patrick Philpott - Company Director
Jean Holt - Company Director
Joanna Formoso - Company Director
Donna Cooper - Company Director
Vanessa Wright - Employee of Pearson (Education)
Kathy Dunnett - Employee of Herts For Learning
2019/20 Trustee financial interests - None declared
2019/20 Trustee roles in other schools - Kathy Dunnett

Member - Hailey Hall, Hoddesdon
Member - Westfield Academy, Watford
Associate - Tomwell, St Mary's